Utah Boat Show & Watersports Expo
February 10-13, 2022
Mountain America Expo Center
The Utah Boat Show & Watersports Expo is the best place to find anything related to boating. Compare all types of boats; houseboats, fishing boats, ski boats, wakeboard boats, pontoon boats and more! Don't forget about the accessories! The Utah Boat Show has an amazing offering of all kinds of boating accessories, from swimsuits to boat polish and everything in between.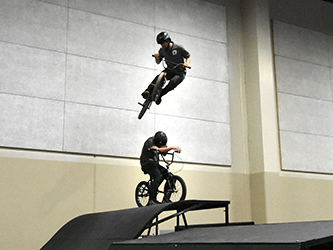 5050bmx Shows
5050bmx is setting up multiple ramps and jumps for their pro BMX riders to perform on. Watch them perform some amazing tricks and get some serious air at the Utah Boat Show.

Wake Park
Watch as pro wake board riders perform amazing stunts on the Wake Park! The feature is over 300′ long, with a corrugated down pipe and a kicker the riders will definitely be putting on a show. Careful of the splash zone, with 2 above-ground pools totaling over 150,000 gallons there is plenty to go around. The riders will be pulled by a Sesitec System 2.0 Cable System, allowing them to ride continuously for minimal downtime.

Rivox Surf Machines combine the best of at-home water sport fun. From beginner to advanced surfing, to swim spa features where flip turns become a thing of the past. Our innovative and first of its kind Rivox Surf Machines are designed to maximize your experience and bring the enjoyment of the lake or ocean right to your home.